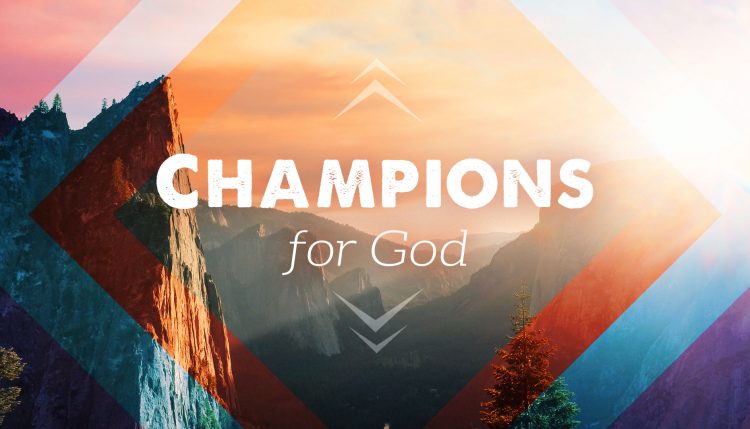 Champions of God
52 Character Studies That Build Your Spiritual Man
Ever wonder how God could use ordinary people with all kinds of limitations, frailties and weaknesses? Ever wonder how God could use Rahab the harlot, Gideon the scared farmer, Jephthah the son of a prostitute, Lydia the business woman, Leah in deep pain or Jeremiah in all of his tears?
God has the answer, and the answer is faith! The following 52 messages reveal how faith can trust and obey God in spite of our feelings and circumstances. The "Champions For God" series reveals the power of I Corinthians 1:27:
"God has chosen the weak things of the world to confound the things which are mighty."
Blessed reading, studying and teaching as you see God's grace at work in every season through ordinary people who put their faith in God!
1. Abraham; How To Start Over Again – Genesis 12:1-3,4
2. Moses; How To Make Right Choices – Hebrews 11:23-29
3. Jacob; How To Be Transformed – Genesis 32:24-32
4. Leah; How To Be Healed Inside – Genesis 29:21-35
5. Ruth; How To Determine Your Destiny – Ruth 1:1-16
6. Joseph; How To Forgive When Betrayed – Genesis 40:23
7. Jephthah; How To Rebound From Ashes – Judges 11:1-11
8. Jeremiah; How to Respond To The Potter – Jeremiah 18:1-23
9. Elijah; How To Survive Disappointments – I Kings 19:1-4
10. Terah; How To Overcome Temptation – Genesis 11:32
11. Job; How To Survive Suffering – Job 1:1-22
12. David; How To Repent And Be Restored – Psalm 32:1-11
13. Uzziah; How To Keep From Drifting – II Chronicles 26:1-23
14. Asaph; How To Overcome Envy's Temptation – Psalm 73
15. Samuel; How To War Against Evil – I Samuel 7:17
16. Noah; How Weariness Is Overcome – Genesis 8:1
17. Joshua; How Courage Is Formed – Joshua 1:1-9
18. Saul; How Perils Can Be Avoided – I Samuel 9:1-10
19. Isaiah; How God Changes People – Isaiah 6:1-9
20. Jehoshaphat; How Fasting And Prayer Prevail – II Chronicles 20:1-22
21. Samson; How To Forfeit God's Anointing – Judges 14:6
22. Hezekiah; How Unified Prayer Brings Victory – II Chronicles 32:1-23
23. Daniel; How Prayer Is Mighty Indeed – Daniel 9:1-24
24. Zechariah; How You Are Enabled – Zechariah 4:1-10
25. Jonah; How God Gives A Second Chance – Jonah 3:1
26. Haggai; How Frustration Is Overcome – Haggai 2:1-9
27. The Unnamed Man; Visitation In A Valley – I Kings 20:13-30
28. Joseph Of Arimathea; Faith Inspired – John 19:28-42
29. Nehemiah; Obstacles Overcome – Nehemiah 6:15,16
30. The Bridegroom; Who Draws Us To Himself – Song of Solomon 5:1-8
31. Rahab; Grace Covers Your Past – Joshua 2:1-24
32. The Woman At The Well; God Knows Your Story – John 4:1-30
33. The Adulterous Woman; Forgiveness Prevails – John 8:1-11
34. Mary Of Bethany; How To Be Still – Luke 10:38-42
35. Mary, Jesus' Mother; Living Surrendered – Luke 1:5-13
36. Lydia; How The Heart Is Opened – Acts 15:36
37. Zacchaeus; Grace Is Undeserved – Luke 19:1-10
38. Peter; Help In The Storm – Matthew 14:23-33
39. The Prodigal; How Love Restores – Luke 15:11-24
40. A Woman With An 18 Year Infirmity; Luke 13:10-17
41. The Nobleman's Son; John 4:43-54
42. Blind Bartimaeus; Mark 10:46-52
43. The Paralytic in Capernaum; Mark 2:1-12
44. Peter's Mother-in-Law; Luke 4:38-44
45. The Man Born Blind; John 9:1-7
46. The Syrophoenician's Daughter; Matthew 15:21-31
47. The Woman With An Issue Of Blood;  Matthew 9:20-22
48. The Centurion's Servant; Matthew 8:5-13
49. The Man With The Withered Hand; Luke 6:1-10
50. The Invalid At The Pool Of Bethesda; John 5:1-9
51. The Deaf And Dumb Man Of Decapolis; Mark 7:31-37
52. The Widow's Son At Nain; Luke 7:11-18